2013 Ark Encounter news
From Creation History Wiki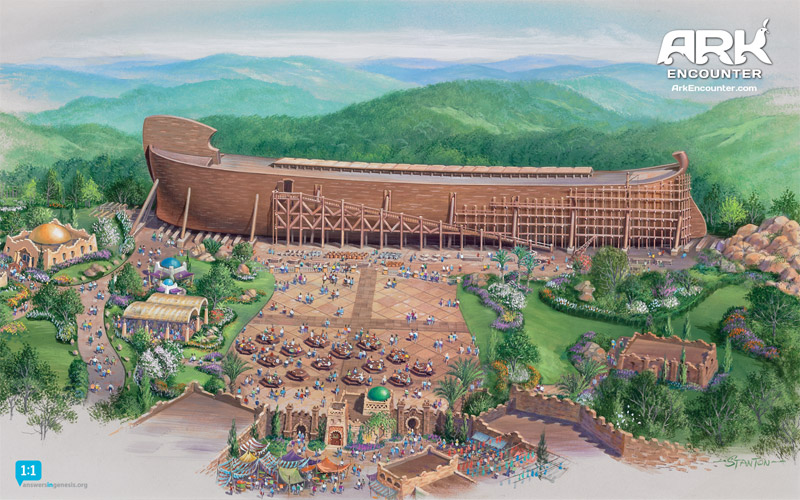 Notes
Article titles in italic indicate the story appeared in the print edition.
2013
June
June. Christianity Today. Carol Stream, Illinois. Spotlight: A Flood of Arks compiled by Ted Olsen. Page 9.
"Answers in Genesis (AiG) hopes to build a $73 million theme park with a full-scale ark and a zoo. Later stages would feature Babel and recreate a sinful antidiluvian city. Despite heavy media attention, funding is slow, and revenues from AiG's nearby Creation Museum have declined."
Jun 9. Sunday Express. London, United Kingdom. Ark left high and dry. Page 8.
"To the US state of Kentucky, where I see that some locals are trying to build a Bible-based theme park, complete with a 500 ft-long replica of Noah's Ark."
Jun 5. Sun Sentinel. Fort Lauderdale, Florida. Park to float its take on Noah, Ark by Mary Wisniewski via Reuters. Page 18A.
Jun 3. Orlando Sentinel. Orlando, Florida. Ark theme park to be real animal kingdom by Mary Wisniewski via Reuters. Page A8.
Jun 3. Chicago Tribune. Chicago, Illinois. Park to float its take on Noah, Ark by Mary Wisniewski via Reuters. Page 11.
"Ark Encounter is a project of Answers in Genesis, the ministry founded by creationism proponent Ken Ham. The ministry built the Creation Museum in nearby Petersburg."
Jun 1. Edmonton Sun. Edmonton, Alberta. Canada. Close encounter of an Ark kind via Reuters. Page 74.
Jun 1. The Packet & Times. Orillia, Ontario. Canada. Noah's Ark theme park wants to show the flood was plausible. Page B3.
"The Biblical account of Noah and his Ark poses a lot of questions, even for believers like the creators of the controversial Creation Museum in Kentucky."
May
May 31. Reuters. London, United Kingdom. Noah's Ark theme park wants to show the Flood was "plausible" editing by Arlene Getz and Prudence Crowther.
"In an office park in Hebron, Kentucky, the designers of the proposed "Ark Encounter" theme park are trying to answer questions like these in order to build faith in the Bible's literal accuracy. The project has run into delays because of lack of financing, which could cost it millions in potential tax breaks. Despite the uncertainty, a recent Reuters preview of the project showed that plans for the ark are continuing."
April
Apr 14. Sun Sentintel. Fort Lauderdale, Florida. Noah's Ark replica under construction near Hialeah by Joey Flechas. Page 4B.
"A Kentucky-based creationist group named Answers in Genesis has raised almost half of the estimated $24.5 million it will take to build an ark as the first phase of Ark Encounter, an attraction that would eventually feature a 510-foot long ark, a petting zoo and a replica of the Tower of Babel."
Apr 6-7. Financial Times. London, England. Life & Arts section. The ark builders by Barney Jopson. Page 19.
"Marsh hopes to start building by the end of 2014, but so far he has not got beyond felling some trees and marking out the ark's position with white flags. Construction has been delayed by the fitful progress of Answers in Genesis's fundraising. It expects the first phase of the park, including the ark, to cost $73m, but it has secured only $12.5m of the $24.5m it aims to raise from donations and subscriptions. The rest will come from "other financing"."
Apr 5. Financial Times. London, England. Life & Arts section. The ark builders: In the US state of Kentucky, creationists are aiming to construct a new Noah's ark by Barney Jopson.
"Inside a faceless warehouse which houses the Answers in Genesis office, on an industrial estate at Kentucky's northern tip, the walls are covered with drawings and plans for Noah's Ark. According to the Bible, Noah built the ark as a lifeboat-cum-zoo after a tip-off from God that he would unleash a catastrophic flood to "destroy all flesh": a no-nonsense punishment for badly behaved humans. Strict creationists, who reckon this happened about 4,000 years ago, say the fossil record is made up entirely of creatures that died in the flood, which spared only Noah's family of eight and the animals he shepherded to safety on the ark."
March
Mar 12. Ohio Enquirer. Cincinnati, Ohio. Work on Ark could begin this year by Mark Hansel. Page B2.
Mar 11. WEKU-FM, 88.9, NPR. Lexington, Kentucky. Ark Park Construction to Start This Year by Mark Hansel and The Kentucky Enquirer.
"Developers of the Ark Encounter theme park expect to begin construction this year at its Grant County site. The attraction, which developers estimate will draw 1.6 million visitors the first year, is envisioned as a full-scale wooden ark that would ultimately include museums, theaters, amenities, event venues and outdoor parking."
Mar 11. Cincinnati.com. Cincinnati, Ohio. Enquirer website. Ark Encounter construction to start this year by Mark Hansel.
"The Ark Encounter, the Noah's Ark-inspired attraction planned for Grant County, is still probably three years from completion of its first phase, but developers expect to start construction later this year."
Mar 11. Kentucky Enquirer. Cincinnati, Ohio. This fall, this man plans to start .... this Noah's Ark replica in NKY by Mark Hansel. Pages B1-B3.
Mar 5. Hamilton Spector. Hamilton, Ontario. Canada. Letter to the Editor. Ants are lungless and other ark answers by Mark Looy. Page A12.
"Lorraine Sommerfeld's column about our Creation Museum and future full-size Noah's Ark was peppered with errors and misrepresentations. First, the questions posed as supposedly unanswerable by us have been answered in our Creation Museum, website, books, etc. For example, no insects were needed on Noah's ark. The Bible teaches (Genesis 7:15) that creatures who possessed "the breath of life" (i.e., have lungs) were on board, thus excluding the millions of insects the writer thinks must have overwhelmed the ark's interior. The author dismissed our argument for dinosaur and human coexistence. She needs to explain away the hard evidence that soft tissue and blood vessels have been found in a T. rex bone. They provide a compelling case that dinosaurs lived in relatively recent times. No money will be taken out of the budgets of state or federal governments to construct the ark. If the ark meets attendance goals and tourism dollars flow into the region, it will receive partial rebates on sales taxes paid by its visitors. No unwilling taxpayer will subsidize the ark. Having the ark is a net gain for the state; offering the rebate is one way to bring an attraction into the state and not another one. The columnist can disagree with our viewpoint all she wants, but she at least should present accurate information."
February
Feb 19. Hamilton Spector. Hamilton, Ontario. Canada. When the ants (and everything else) go marching two by two by Lorraine Sommerfeld. Page G8.
"In Petersburg, Ky., back in 2007, a group called Answers in Genesis opened Creation Museum. Depicting a literal translation of the origins of the Earth according to the Bible, they made stunning lifelike displays showing the world being created 6,000 years ago."
Feb 19. Hamilton Spector. Hamilton, Ontario. Canada. When the ants — and everything else — go marching two by two by Lorraine Sommerfeld.
"I know what you're about to say: but Lorraine? What about that report I read last week where scientists had to do a mea culpa and reveal new geological information that pushes the dinosaur extinction from 65 million years ago to 66 million years ago? I'd reply I find it fascinating science continues to test and change and discover this awesome world of ours, and all the things on it, in it, and around it. The very nature of learning is that you are never done."
January
Jan 31. Grant County News. Dry Ridge, Kentucky. Timber! Ark Park Is A Go: Workers begin clearing trees by Jamie Baker-Nanztz. Page 1, 18.
"Zovath said in the last year, the AE has invested over $6 million in buying the land with another $3 million being spent on site and exhibit design. The buzz of chainsaws and crashing of dead wood broke the silence of a chilly January afternoon as Tim Schmitt, landscape architect for the Ark Encounter, and a crew of two began cutting down trees on the 800-acre site just off Ky. 36 in Williamstown earlier this month."
Jan 31. Grant County News. Dry Ridge, Kentucky. Timber! Ark Park Is A Go: Workers begin clearing trees by Jamie Baker-Nanztz.
"Zovath said while the trees are being cleared, the architectural firm is working on securing construction permits, which include permits for waterways, encroachments, erosion control, grading and building permits for the Ark itself.
"The firm we have hired estimates the permit acquisition process will take six to nine months and we expect to spend more than $2.4 million. Once we have all of the permits, we will be ready to begin the construction/bidding process. We will need the rest of the construction funds to come in to begin construction," Zovath said.
To date, about $12 million has been raised for the project, leaving another $12.5 million, still to be raised. Zovath said that donations in November and December 2012 were strong."
Jan 30. Forbes. New York, New York. Not Income Tax Evasion - Structuring - That's How They Got Kent Hovind by Peter J. Reilly.
"Kent Hovind was recently named to the Creation Science Hall of Fame. They may have to wait for any sort of induction ceremony as he is presently a federal inmate in Berlin, NH with a projected release date of August 11, 2015. Nick Lally believes that Mr. Hovind is in jail "out of principle and not deceit". We'll get to that, but first I should explain that the Creation Science Hall of Fame does not yet have an actual hall, although they have projected one to be built. The Hall will be strategically located between the Answers In (sic) Genesis Creation Musuem (sic) and the upcoming Ark Encounter. I'm thinking I'll wait for all three to be completed before I visit Petersburg KY as the only other attraction I noted there involves horseback riding."
Jan 10. Grant County News. Dry Ridge, Kentucky. Can you dig it! Ark Park update. Pages 1, 18.
"We're moving along," he said. "We thought we'd be there by now, but with the economy as it is, it's just really been slow. To assure everybody that we are in this thing, we've got $9 million in the game already for property and all the work up to it. We're going to see this thing through."
Jan 10. Grant County News. Dry Ridge, Kentucky. Our Opinion. Our wish to you!. Page 4.
Jan 9. Grant County News. Dry Ridge, Kentucky. WHAT 2 WATCH 4 by Bryan Marshall.
"As of Jan. 7, the amount raised has exceeded $11.5 million."
Jan 7. Ottawa Citizen. Ottawa, Canada. We must hope good sense returns to American discourse by J.L. Granatstein. Page A9.
"Think of the many Americans who dismiss evolution as a cockeyed theory because of its conflict with Biblical tales. Consider the Creation Museum in Kentucky which argues that the world was created in six days. Or the efforts underway to build a Noah's Ark, following the exact dimensions as given in scripture. This lunacy is bad enough, but anti-evolutionists control school boards in some states and determine how and what children can be taught. Vast majorities of Americans claim to attend church regularly — they don't — and equal majorities believe in the devil."
Jan 2. Grant County News. Dry Ridge, Kentucky. 2012 - What Made the News?. Page 1.
Jan 2. Grant County News. Dry Ridge, Kentucky. 2012 WHAT MADE THE NEWS?.
"Ark Encounter LLC closes on final piece of property for upcoming tourist project. With funding efforts impacted by sluggish economy, project will be built in phases."
More Ark Encounter News
See Also